Bicarbonate of soda, or baking soda, is something of a wonder ingredient when it comes to cleaning the home. It can be used for an assortment of jobs, from disinfecting sinks, scrubbing at kitchen work surfaces and cleaning mattresses.
Though it's (obviously) most traditionally used in baking, it's also a great, inexpensive ingredient to use when cleaning, because of its natural abrasive, antibacterial, and deodorising properties. And it can be used either on its own, or in conjunction with other ingredients such as water or white vinegar to tackle stains and smells. 
However, that doesn't mean that bicarb is suitable for all household cleaning tasks. In fact, it could actually be damaging if used in certain areas of your home – which is why it's important to know where it's suitable for use during cleaning, and where it isn't.
The things you should never clean with bicarb
1. Aluminium surfaces
Firstly, the experts warn that baking soda should be kept away from most aluminium items, especially when it comes to prolonged use. 
'You shouldn't use bicarbonate of soda to clean any aluminium items or surfaces, such as tables, picture frames, and lamps,' warns cleaning pro Lucy Rhead at Gtech. 'This is because bicarbonate of soda can cause aluminium to oxidise, meaning its surface could change colour and even turn brown, if used repeatedly.'
'Overall, I would not recommend using baking soda on expensive surfaces that need to be cleaned with specialised cleaning products,' doubles down cleaning expert Stephen Tombs, founder of Quean Clean.
2. Wooden furniture or floors
The fact that bicarb is abrasive is why it's excellent at cleaning household items like kettles, some kitchen surfaces, and cleaning stains from carpet. In fact, its abrasive quality is why using it is one of the best natural cleaning hacks out there.
However, it is also this attribute that makes it a bad option for cleaning wooden surfaces, such as floors and furniture.
'Bicarbonate of soda's abrasive properties can cause harm to wood, with the potential to damage its finish or sealants,' says Lucy from Gtech. 'Also, due to its acidity, bicarbonate of soda can react with the wood and cause discolouration.'
3. Marble surfaces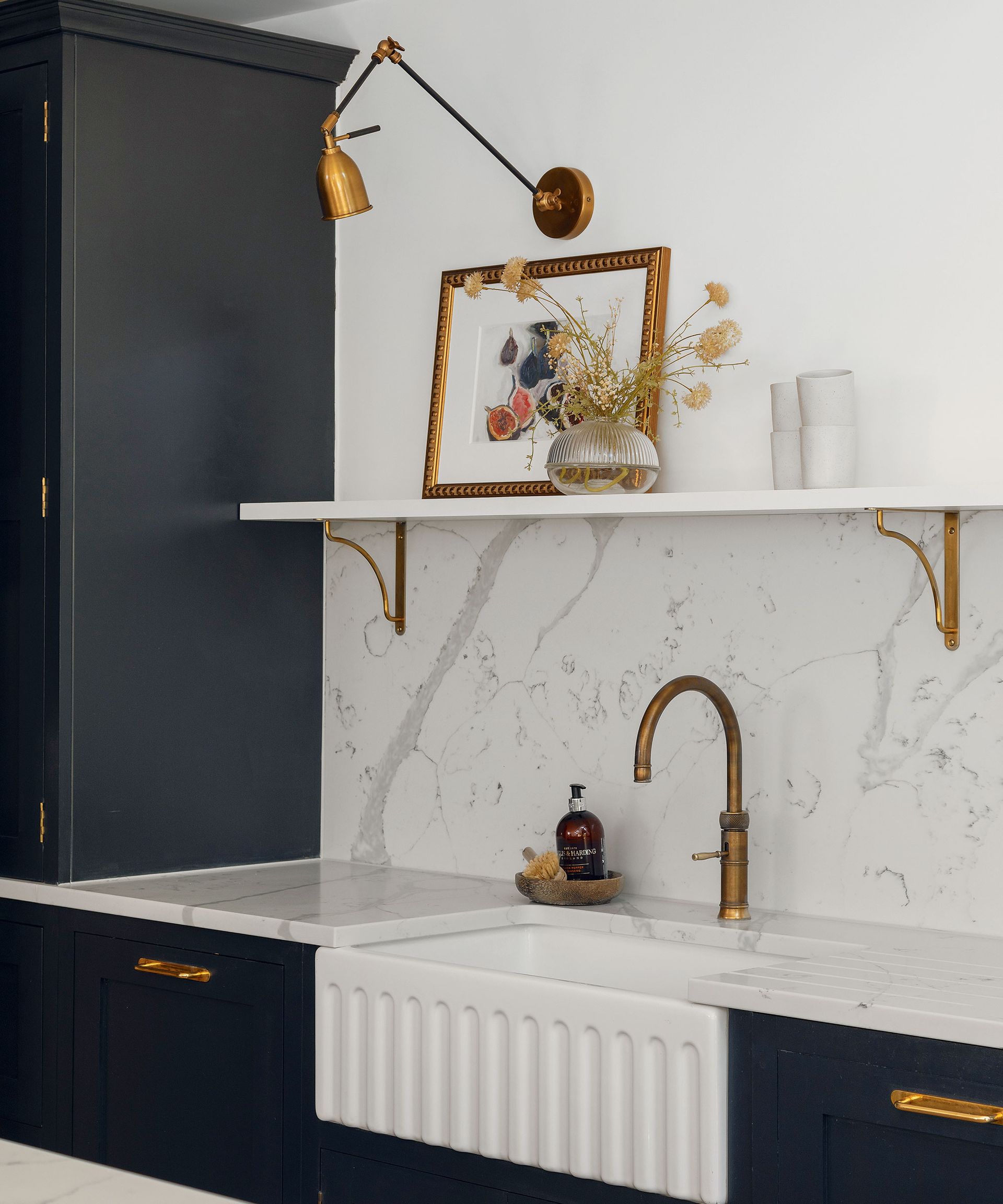 Though bicarbonate of soda can be effective at cleaning marble surfaces, such as marble worktops and kitchen islands, it's largely not recommended, as it can have adverse effects in the long run. 
Baking soda will likely be able to pull up any stains from marble surfaces, but repeated use of the ingredient can cause damage to its protective layer, eventually damaging the quality and resulting in scratches and grooves in the finish. 
'It is advisable to avoid using bicarbonate of soda on delicate or polished surfaces like stainless steel, marble or granite countertops, as it can cause scratching or dulling,' recommends Stephen from Quean Clean.
'Baking soda will also not polish or protect your surfaces like other cleaning agents designed for the specific surface would, so use a specialised cleaner instead.'
4. Glass of all types
One area of your home that absolutely shouldn't be cleaned with bicarb is glass, be it delicate glassware or windows and doors. Doing so could result in some serious damage to these areas pretty quickly, the experts explain.
'As a natural abrasive, bicarbonate of soda could cause damage and scratches if used directly on glass,' warns Lucy from Getech. 'Instead, opt for dedicated glass cleaning sprays when cleaning mirrors, windows, or any other glass.' It's worth learning how to clean windows properly – without baking soda.