Looking for an easy way to beat the heatwave? Experts reveal why keeping blinds open at night and keeping them closed on specific windows can help keep your home cool.
Window blind ideas not only serve the purpose of providing privacy and a splash of decor to a room but are also a savvy way to regulate the temperature in your home. Whether it be keeping your home warm in the winter, to keeping a room cool at the peak of a summer's day, having a couple of shading tips up your sleeve can make the world of a difference when staying indoors this summer.
According to recent data by Loughborough University, 4.6 million homes in England experience overheating in the summer. While those located in suburban and rural locations may find it easier to stay cooler using ventilation from open windows and doors, the increasing popularity of large glazed areas such as bifold doors, large windows, and conservatories can still make overheating a real problem.
It's long been known that you should avoid opening a window on a hot day, so what can you do instead to curb the heat and discomfort when you're stuck in your home all day?
Zoe has been working with BBSA and its members since 2015. She has worked on government committees and other bodies to help get shading better recognised within building regulations. Zoe completed her PhD at London South Bank University in 2021 and her research investigated how solar shading products positively affect overheating, well-being, productivity and sustainability in the UK built environment.
She is very passionate about the role shading products play in making buildings more climate-resilient, comfortable and energy-efficient.
'As housing becomes better insulated and air-tight to help conserve warmth in the cold winter months, overheating is becoming an unintended consequence during the summer. Shading has been used for centuries to help make buildings where we live and work more comfortable,' explains Dr Zoe De Grussa, technical and sustainability consultant at the British Blind and Shutter Association (BBSA).
'Recent independent research proves that internal and especially external shading is effective at reducing indoor temperatures in the summer.'
'In the summer, closing blinds or shutters during the day helps prevent solar gains and opening them again in the evening can help keep your home cooler.'
'From a best practice point of view, we recommend opening blinds at night on west and north-west facing windows to help with nighttime cooling and closing the blinds during the day on east and south-east facing windows to help create a cool refuge from the sun.'
'It's important to remember to open curtains, blinds and windows when it starts to get dark and the temperature drops outside. You need to allow the cool, evening air in to circulate around your home,' adds Greig Millar, an expert at OVO Energy.
'Opening windows at night and in the early morning will make the biggest difference because the outside air is at its coolest. And closing blinds and curtains in the late afternoon will make the biggest impact in terms of limiting solar gain.'
'If you need more natural light in your home during the day, you can keep blinds and windows open on north-facing windows because they tend to be shaded, even during the hottest parts of the day.'
'In addition, when outside temperatures are lower during the evening and through the night, opening doors and windows on opposite sides of the house to generate airflow will help dissipate the heat, making the building more comfortable,' adds Dr Zoe De Grussa. This is one of the top reasons experts would advise you to keep your bedroom door during a heatwave.
Greig Millar at OVO Energy, adds that doing this 'will create a cross-breeze and allow airflow to move through the house. Better still, if you open windows at night and then close them through the day, you'll trap the cooler air in to let it circulate without escaping.'
'In the UK, blinds and shutters are often viewed as an optional window dressing rather than a useful tool to help support cooling in the summer and energy saving in the winter,' explains Dr Zoe De Grussa, but we think it's important to change that viewpoint, considering how useful they are for saving energy at home and acting as your own personal AC unit.
If you were looking for a new window treatment idea to spruce up your home for the summer and cut down on your energy bills, Blinds 2go's Ideal Home collection has a wide selection of blinds to choose from, including wooden blinds, roman blinds, and roller blinds in colours and designs to suit however your home may be designed.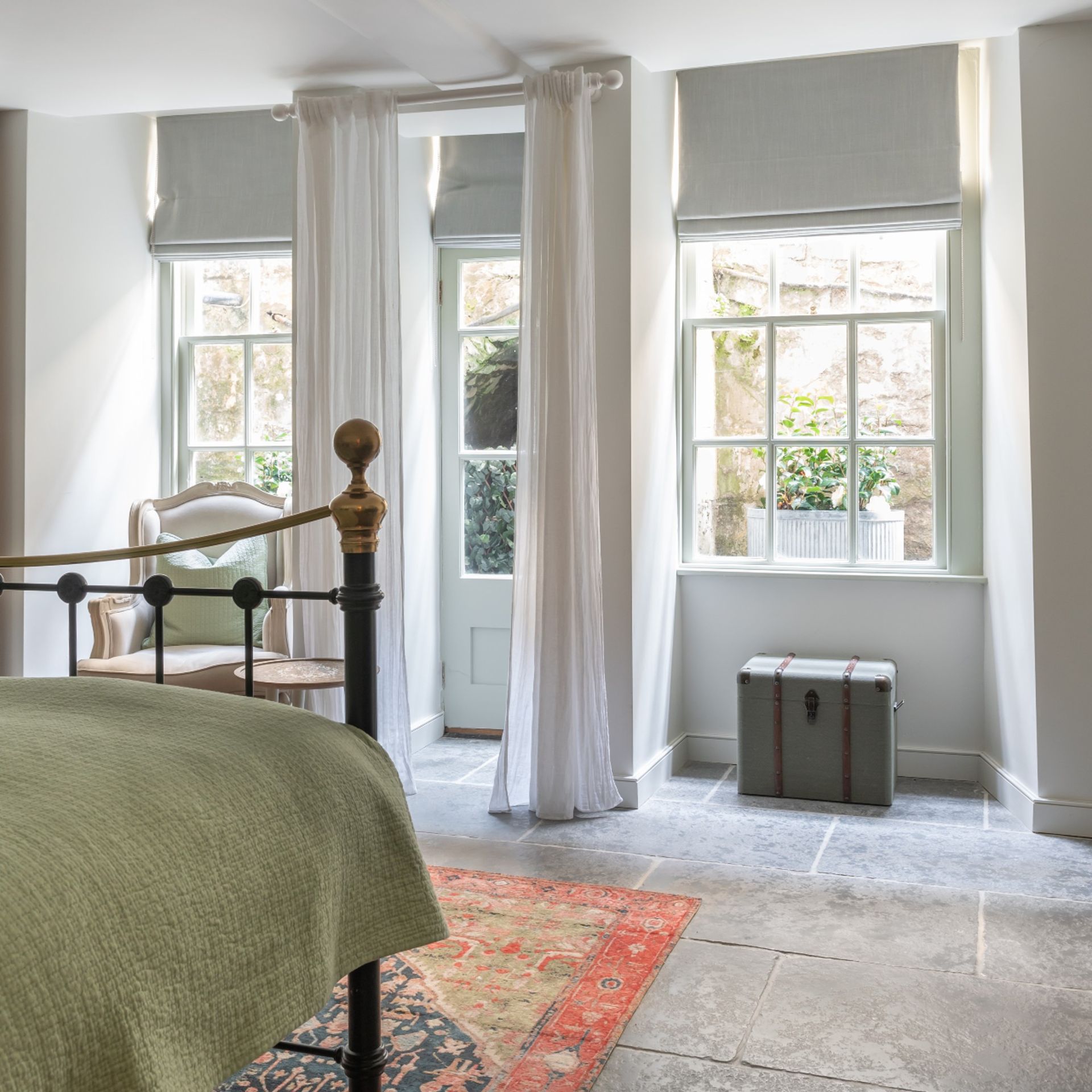 My own flat benefits from south-facing windows during the day which is amazing for the natural light I get, but oh my word, does it get hot. I often find myself fleeing for refuge in my shaded kitchen during the daytime, so best believe I'll certainly be keeping these tips in mind for my own sanity this summer.