Not been blessed with lots of outdoor space? Lucky for you, there's a garden furniture trend our editor swears by that instantly makes a space feel bigger.
Contrary to popular belief, a small garden doesn't have to be a weakness. Just because you're pushed for space doesn't mean that you can't enjoy all the components of style, form, and function – in fact, there's a certain garden trend we've spotted that actually thrives in smaller spaces.
There's no better time than now to brush up on your garden ideas, whether you're focusing on your patio ideas or are sprucing up a dated outdoor living room with new pieces of the best garden furniture on the market, doing so ahead of the summer will have you thanking yourself for it later on.
'Finding the best garden furniture for small outdoor spaces can sometimes be tricky as you don't want to overwhelm the space,' warns Ideal Home's Decor Editor, Amy Lockwood.
Following suit, Rachael Fell, head of buying for furniture at Habitat adds: 'Small outdoor spaces are a reality for many but this doesn't mean we have to compromise on style and comfort.'
So, what kind of styles and silhouettes should we be looking out for when buying furniture for a small outdoor space?
Linear modern garden furniture trend
'Linear furniture designs with a minimal profile are ideal for compact outdoor areas,' says Rachael Fell at Habitat.
'The open lines of rope and rattan designs give the illusion of more space as the surrounding scene is visible through it. Look out for foldable and stackable styles to really maximise on space.'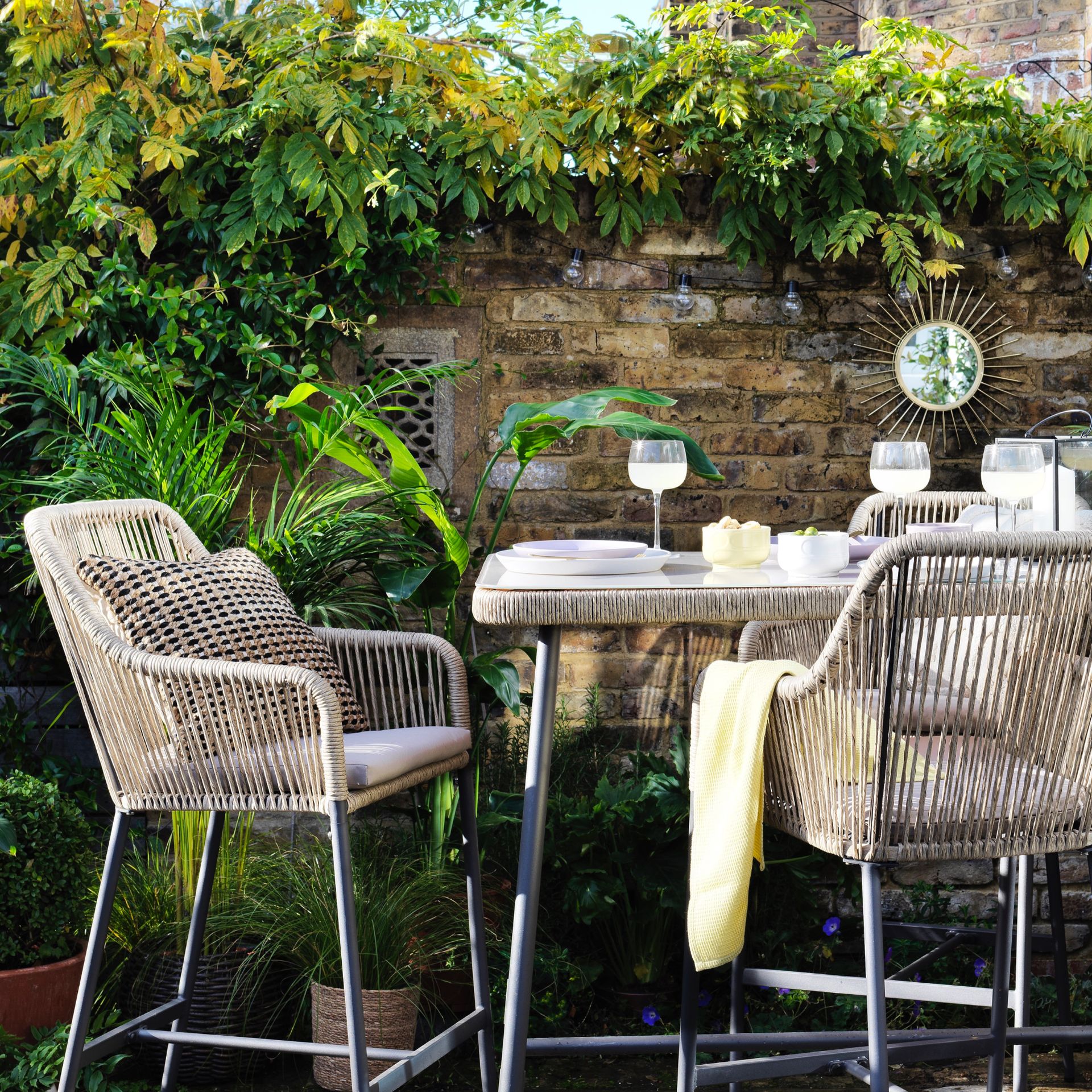 Ideal Home's Amy Lockwood agrees: 'This contemporary rattan style is the perfect solution because it's visually 'lightweight' so doesn't add bulk, and because the open weave is 'see-through' it means your eye can travel through the furniture to the perimeter of your garden, patio, or balcony, which gives the illusion of the space feeling larger.'
Habitat Nordic 4 Seater Rattan Garden Bistro Set
This stunning Nordic Spring lounge set offers the perfect spot for peace and quiet.
M&S Lois 4 Seater Dining Table & Chairs
Host a dinner for family and friends in your garden with this stylish Lois dining set.
We've seen this modern linear garden furniture trend take some of our favourite brands by storm, and it's safe to say that this style of garden furniture is also a favourite of many shoppers sprucing up their outdoor space.
We're sure to see more of this furniture style champion smaller gardens, patios, and even balconies forthcome the summertime when everyone's out to enjoy the sunshine.