Myleene Klass has always been something of a style icon, but it seems she is also a trendsetter in the world of garden benches, too.
The musician, singer, television presenter and model recently took to Instagram to share a video of herself and her family repainting a garden bench in a multitude of colours – and it's one of those gorgeous garden ideas that has captured social media's attention in a very big way.
'When it comes to DIY at Casa Klass, go hard or go home,' Myleene joked in the caption, perhaps unaware of her ability to launch 1,000 garden trends.
Myleene Klass's unusual garden bench
'We first painted this bench eight years ago with mine and my girls' names on it,' writes Myleene of the fun DIY project.
'Now, my family has grown and the bench has faded so we opened up the very same tins of paint (can you believe they were still OK?!) and spent the day giving our bench Frida vibes.'
Check it out:
Clearly pleased with her personality-laden approach to garden seating ideas, Myleene adds: 'I don't actually know how we could have made it any 'louder' or more beautiful. 
'It has pride of place in our garden, and my children's names on it forever. I actually love it.'
What fans are saying about Myleene Klass's garden bench 
It seems the world has been waiting for some garden furniture ideas that add some serious oomph, as everyone on Instagram seems besotted with Myleene's garden bench.
'Love love LOVE this idea,' reads one comment. 'It's so cute!'
'That is so poignant and beautiful ,' says another.
One more reads: 'I heard you talking about this on Smooth radio, but only just able to look now. It's amazing!'
And even the experts are fans, with Sophie Smith at Zhoosh Paints branding the garden bench as 'stunning. 
'The home and garden are such personal spaces and by creating their own unique designs, with names, flowers, bright images and handprints, Myleene and her family have created a wonderful memory as well as a fantastic place to relax,' she tells us.
How to recreate Myleene Klass's vibrant garden bench at home
Has Myleene's garden bench left you wondering how to paint garden furniture and give it a stylish summer makeover of your own? Then now is the time to grab a brush and make good on all those exciting garden paint ideas.
'First, you need to prep the bench – just give it a clean and sand down if needed,' says Sophie.
'Then it's a case of choosing your colours: Myleene's choice of pastels with brights is brilliant. Her pink base is a popular colour right now, and we have just launched some new brighter pinks to our range: any of our eggshell paints can be used outdoors.'
Sophie adds: 'If you are looking to create stripes or zig zags then use a good masking tape like FrogTape to get clean straight lines, but if you are going freehand, then flowers, circles and wavy lines are great fun. Just make sure you let the base coat dry first. 
'Contrasting blues and yellows make the colours pop and work in any garden environment, and if black is too harsh for your outlines, there are lots of dark greys like our Between the Stars – perfect for borders and edges. '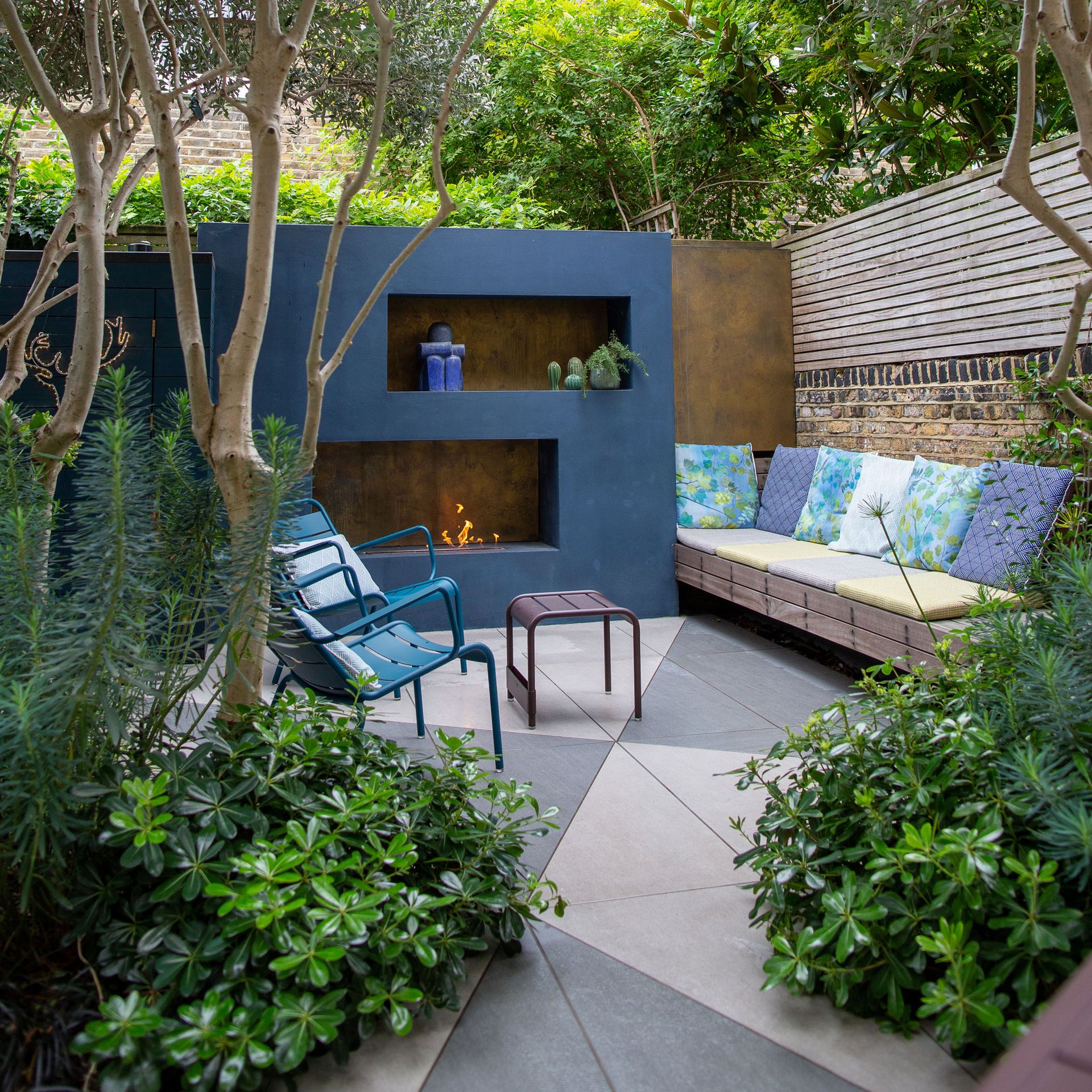 If you are using leftover paint, Ideal Home's Deputy Digital Editor Rebecca Knight says it should be absolutely fine if it's been stored correctly: just be sure to strain it if it's looking a bit bitty, to avoid an uneven finish.
'If you fancy a wild animal print effect like Myleene's, try using test pots for your spots,' she says. 'It's a cheaper option than buying a new tin! And be sure to weatherproof your finished garden bench with a good sealant or topcoat, like this bottle of Frenchic Tuff Top Coat from Amazon.'
Whatever design you go for, Sophie urges you to 'remember that the key really is just to have fun with it, just as Myleene and her family clearly did!'