It might not be the first place you think of when planning your next homeware shop, but for those of us who love stocking up on unique and funky accessories, you may want to head on over to much-loved fashion brand Rixo. Yes, really.
The London-based, vintage-inspired brand has long been popular with the fashion-it crowd for its stand-out prints and exuberant pops of colour. But now, they have branched out into homeware – and it's just as fun and bright as you'd expect!
The Rixo homeware range includes just seven special items – and all seven tap into one of our favourite 2023 home decor trends that is quickly rising in popularity; the idea of incorporating waves into our home design.
The new Rixo homeware collection
Rixo's very first homeware collection (opens in new tab) has been created in collaboration with the Swedish interiors brand Meli Meli, and the signature style of both brands is clear to see in the range, which is full of patterns and pops of colour.
Meli Meli are actually known for their iconic wave style print, which features on many of their pieces – and it looks as though the two brands have teamed up to combine this pattern with Rixo's contemporary, hand-printed designs.
Within the range, you'll find accessories including vases, coasters, trays and throws.
There's one standout print within the line – a black and white, retro wave design – which can be seen in the throw (above), a coaster, and in one of the ceramic vases (again, as above). 
Given that the scalloped, waved shape design is set to be huge over the next 12 months, we'd anticipate that these monochromatic items could be the biggest sellers of the entire collection!
You can snap up all of the pieces in the range for less than £150, too. The black and white tasselled wool throw (opens in new tab) is the most expensive item in Rixo's new launch, retailing for £150 – while the vase in the same print is on sale for £125 (opens in new tab). 
The coaster in the same design is on sale for £28 – making the coasters the most affordable part of the new range.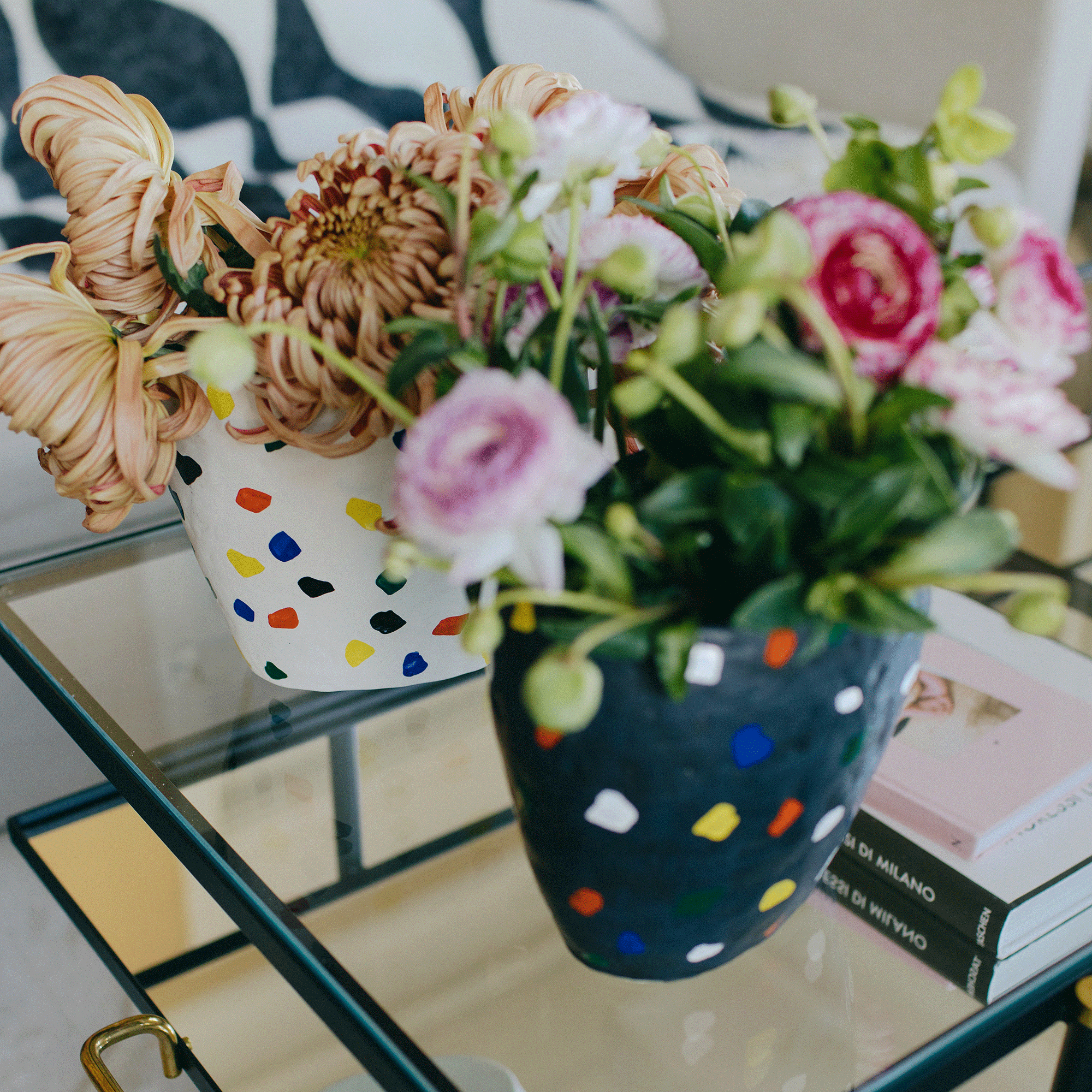 But, if you like things a bit more colourful, one of the vases and one of the coasters have been designed with RIXO's multi-coloured hand-painted Mixed Tulip print pattern, which would quickly add a pop of vibrancy to your home.
And for those who love everything 60s, there's also an eclectic wave print tray made up of an orange, yellow, blue and pink colourway, which is perfect for serving drinks at your next dinner party – or simply to jazz up a relaxed evening at home. It's also fairly affordable, retailing at £40.
Both coasters in the collection are on sale for £28, and all three vases (there is a black and white option in the Mixed Tulip print), are available for £125. While you can buy the coasters, tray and throw online, the vases are only available in-store.
'It's so exciting seeing our hand-painted prints reimagined these beautiful accessories. We can't wait to see RIXO styled in people's homes! RIXO homeware is something we've always really wanted to offer our customer, and collaborating with MELI MELI has been such a great way to explore this new category,' says Henrietta Rix & Orlagh McCloskey, RIXO co-founders.
Which is your favourite piece in the collection?