If there's something we can all agree on that we absolutely despise, it's having to deal with dampness and condensation; especially in a bathroom setting where odour and moisture often tend to wreak havoc more than anywhere else in a home.
While opting for the best dehumidifier is always a sure way to get rid of damp in your home, admittedly, that solution can oftentimes be spennier. To keep down costs, people are turning to TikTok hacks to create their own DIY charcoal dehumidifiers.
We reckon you might still have some charcoal left over seeing as BBQ season is pretty much on its way out. Therefore, there's no harm in seeing what else it can be used for.
Well, it's just your luck as TikTok's favourite grandmother, Babs, comes armed with a solution for bathroom moisture – and it involves using charcoal.
The TiKTok viral DIY charcoal dehumidifier
Ever since we found out how to use charcoal to get rid of bad kitchen smells, we've been eagle-eyed on spotting more hacks and quick ways to utilise charcoal in our homes.
In a viral TikTok video with over 21.8 million views posted by Babs (@brunchwithbabs), she says, 'Did your mother ever tell you that you can do a lot more with charcoal than just grill? Charcoal is my go-to for moisture and odour issues all over the house. Cheap, easy, and you probably have it on hand – especially this time of year!'
The first hack she mentions is about banishing kitchen smells, which is what we just covered the other week. So, what we're interested in is her second hack where she fills a glass jar with charcoal, punctures some holes in the lid, and leaves it in those moist areas of a bathroom.
We asked experts for their take on this hack to help discuss the effectiveness of this method, as well as any dangers that may arise and things to consider.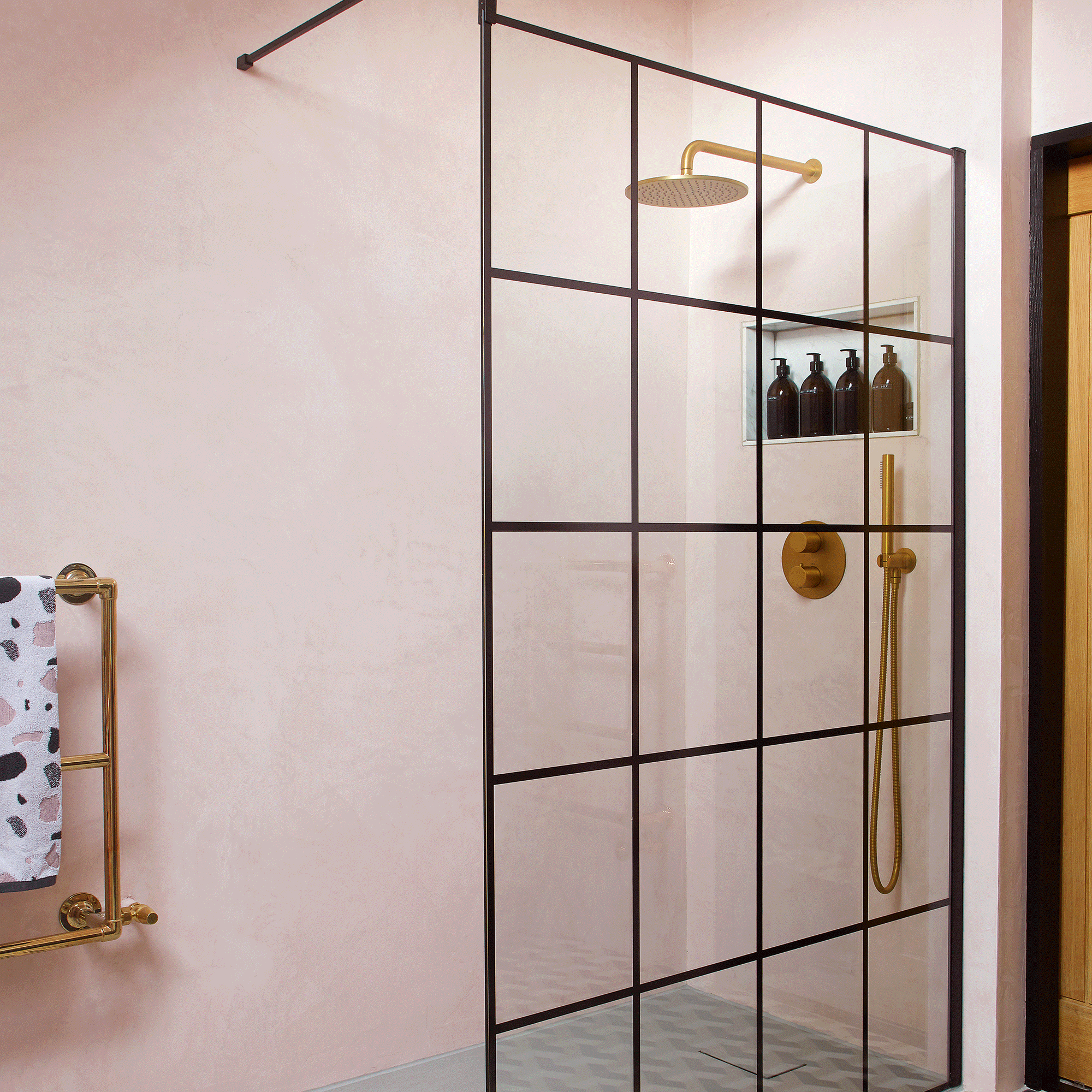 Does it work?
'This hack will absolutely work,' assures James Newman, home improvement expert at RaffleHouse. 'While the hack won't be as effective at removing moisture from your bathroom as an electric dehumidifier, it will do the job if you are on a budget and want to keep the costs down.'
'Charcoal briquettes that you use on a barbeque are cheap, accessible and can be replaced quickly after a few weeks of usage.'
He adds, 'The best thing about this hack is that your DIY dehumidifier can be hidden out of sight not just in the bathroom but in other rooms too. Homes with high humidity can cause condensation which can make your wooden furniture and fixtures rot, make your wallpaper curl and damage surfaces in your home.'
The dangers of using a DIY charcoal dehumidifier
'Charcoal is a combustible material so it shouldn't be placed in areas where there are potential sources of ignition. If you like to have a bath with candles burning, do not use this hack,' warns James.
'When purchasing your charcoal briquettes make sure to only buy the plain briquettes too,' he urges. 'Instant light charcoal or charcoal that is covered in starter fuel is a serious fire hazard and should not be stored anywhere in your home.'
'Some bags of charcoal won't be clearly printed so when in doubt be sure to ask a shop assistant.'
It isn't an end all be all…
And of course, while making a DIY charcoal dehumidifier might temporarily solve a problem, it isn't the ultimate solution.
'If you have a bathroom that is suffering badly with mould and damp, you're going to need more than charcoal to stop the problem,' explains Warren Kinloch, bathroom expert at Bathroom Deal. 'The substance is a great deterrent and can help in getting your bathroom back to normal, but it can't be the main solution to the problem.'
'These ideas are fine for a small space, such as the inside of a drawer, but are not likely to have much impact in larger spaces,' adds Chris Michael, managing director at Meaco. 
Chris continues, 'If consumers are looking to reduce moisture in a bathroom, then opening a window after a bath or shower helps.'
'We don't advise using a dehumidifier in the bathroom because it isn't IP-rated, but positioning a dehumidifier as close to the bathroom as possible with the door open still can help to reduce moisture quickly.'